Detroit
— A registered election challenger is asking a Wayne County Circuit judge to throw out all city absentee ballots from Tuesday's primary on claims they are tainted.
Like that is going to happen. The City and the County are going to argue that it is too late, too much money, blah, blah, blah.
How do I know?
Been there, done that, bought the rhinestone t-shirt.
Anita Belle of Detroit filed an emergency complaint Wednesday asking Chief Judge Robert Colombo Jr. to stop the Detroit Election Commission from using the results of all absentee ballots after she contends challenges sought were unfairly denied and Belle herself was forced out of the absentee counting room inside Cobo Hall.
Chief Judge Robert Columbo, Jr.?
ROFLMAO!!!!
Hold on, I need a personal moment, here.
(Me laughing at the thought of a fair, unbiased adjudication of the issues with Detroit Land Bank Authority in front
of Robert Columbo)
Belle said her certified group, the Voting Justice Committee, intended to challenge the eligibility of nearly 1,200 registered voters using addresses that were vacant lots owned by the Detroit Land Bank. But Belle said election workers denied the group.
Ok, here we go.
Chief Judge Robert Columbo, Jr. needs to voluntarily recuse himself from hearing the case because he has a long, quite long, and illustrious career issuing fraudulent rulings on behalf of Mike Duggan, Mayor Mike Duggan, and the Detroit Land Bank Authority, in quiet title actions.
As a matter of fact, the entire case needs to referred to the U.S. Department of Justice, Voting Rights Division, or the Affirmative Litigation Division, because, something tells me, that just might end up being the proper jurisdiction to investigate.
Whoops, looks like I just referred the matter. (snicker). #DOJ #FBI #votingrights
Judge Robert J. Columbo, in his capacity of Chief Judge of the Third Judicial Circuit Court of Michigan, issued order for DOCKET DIRECTIVE 2014 – 26 on September 2, 2014, granting the Detroit Land Bank Authority (DLBA) special procedures in all civil actions for Expedited Quiet Title and Foreclosure Proceedings without requiring the DLBA to demonstrate it was "duly organized" or "validly existing" corporation "in good standing" in its state of incorporation to conduct business and "duly qualified" to conduct business with federal, state or local governments or to conduct business in other states.
What happened to my Michigan Judicial Tenure Grievance?
They told me I had to get an attorney because there was nothing they could do.
TRANSLATION: WE AIN'T GONNA TOUCH THIS ONE. THE FEDS ARE ON IT.
Here is the place where the readers of disbelief, (a.k.a. Detroit Land Bank Authority defenders) will take great offense of my judicial allegations of fraud, so, just for moment of self-entertainment, I shall digress and tell the tale of Columbo and real estate fraud in Detroit, again.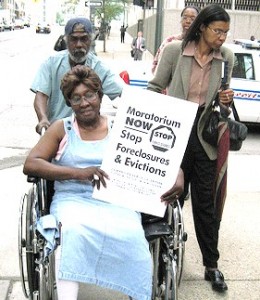 Once upon a time, there was an attorney by the name of Vanessa Fluker who had a case pending before Columbo about fraudulent mortgage foreclosures.
To cut to the chase, Columbo, who had a mortgage with a defendant bank in one of Fluker's case, refused to recuse himself, and sanctioned her in this challenge for daring to even make such accusations into the public record as a "vexatious appeal" on eviction of her client. (notice the age and wheelchair of the client being evicted.)
Eventually, in appeal, the sanctions were lifted, but Columbo was then, put on public record of being baisedly friendly to those mortgage fraud schemes, including those NSP 2 mortgage fraud schemes of the then burgeoning Detroit Land Bank Authority.
Deutsche Bank and MortgageIT unit sued for mortgage fraud
"Supervisors with the Detroit City Clerk's Office deprived me of the right to challenge the election by prohibiting challengers from being present when the signatures on the returned absentee ballots were compared against the signatures contained on the state's Qualified Voter File," Belle said during a news conference outside City Hall on Thursday evening.
"Supervisors with the Detroit City Clerk's Office also deprived me of the right to challenge the election by claiming that any and all use of my cell phone — even to tell time or to talk to their own staff — was disruptive."


Ultimately, Belle said supervisors with the clerk's office and Detroit police removed her from the premises for using her phone to call the clerk's office.


The lawsuit targets the city's Election Commission — comprised of three members including Detroit City Clerk
Janice Winfrey
, Detroit Corporation Counsel Melvin Butch Hollowell and Council President Brenda Jones — as well as Winfrey independently as clerk and chair of the commission.
Reached Thursday, Winfrey said she was unaware of Belle's complaint. Hollowell said the lawsuit had not been served to the city. If it is, the city will respond in court, he said.
Rumor has it Hollowell slides all cases dealing with Detroit Land Bank Authority to a special "out-box" for Clark Hill, the same Clark Hill law firm which handles the Detroit Bankruptcy case.
Golly geeze,
I know a city where the entire ballot verification process, from state to finish, is done in complete secrecy,
with some of the same familiar names involved, including Wayne County, but hey, what do I know?
Belle said the group intended to challenge the residency of registered voters, particularly absentee ballots mailed to such voters, "because ballots mailed to vacant lots most likely would not have a mailbox and would thus be returned to the City Clerk's office as undeliverable."
One would have to discover if those absentee ballots were even "mailed" or just picked up and returned by mail.
That would be mail fraud. That would be a federal issue. #DOJ
Whoever the attorney is to be filing this original complaint on behalf of Belle, I hope sticks in a federal claim so these Detroit election officials will be forced to remove it.
I will try and secure a copy of the complaint and update.
If not, I am sure my #Superfans will be monitoring, and, if not, I will be, oh, reporting on it, too, just to make their lives a bit more pleasurable!
I like making my #Superfans smile.
"Consequently, in the event that such ballots were found to be voted upon, the plaintiff intended to allege that employees of the city clerk, who had access to and custody of these ballots, violated numerous state and federal laws and thereby diluted the vote of the true residents of Detroit and thus rigged the election," the lawsuit reads.
Yuppers, absolutely. But then again, perhaps t'was not the employees, but an official.
Sounds like another reason for federal intervention. #DOJ
"Because it is now possible that the well of absentee ballots is poisoned by as many as nearly 1,200 indistinguishable ballots cast by nonresidents, there is no repair but to ask Judge Colombo to throw out all of the absentee ballots," Belle said Thursday. "... challengers are not pesky mosquitoes sucking the blood out of elections. We're volunteers who make sure that the right vote is counted right."
Belle is also asking the judge to refer the matter to the appropriate authorities for a criminal investigation, she said.
Anita Belle, meet Daniel Lemisch, Dan, meet Anita.
Voting is beautiful, be beautiful ~ vote.©