It seems the Mann Act is one of those residuals of the peculiar institution, of which there has been an eerie silence of the blanketed theories on who is worthy of being procured, in the best interests of the child, but in this instance, the selling of tiny humans who hail from the darker persuasion, to the tune of the
imperialistic morality parade.
The Mann Act, along with the Suppression of White Slave Traffic (
Traite des Blanches)
Agreement was designed to do exactly what it says by establishing a system where alien women and children are registered upon entry of the country for the purposes of prostitution, with regulation of procurement and demand for production of receipts, for tax purposes.
Agreement and proces-verbal of signature signed at Paris May 18, 1904 Ratifications deposited at Paris January 18, 1905 1 Senate advice and consent to adherence March 1, 1905 2 Adherence declared by the President of the United States June 6, 1908 Entered into force July 18, 1905; for the United States June 6,1908 Proclaimed by the President of the United States June 15, 1908 Amended by protocol of May 4, 1949 s 35 Stat. 1979; Treaty Series 496
The Thirteenth Amendment never abolished indentured servitude, nor slavery, because these women and children of "The Poors"
(always said with clinched teeth)
are considered guilty of the crime of debauchery, moral turpitude.
Think about deportation and immigration of women and children.
Think about the fact that this has been on the book since 1904 and not one person sees a problem with this law.
Now, close your eyes and think about international foster care and adoption, being
Legally Kidnapped
in the United States where the trafficking of tiny humans is a multi-billion dollar industry operating in the eyes of the tax exempt god.
Procurement of tiny humans is just a fancy way of saying
"selling chattel, the oldest form of survival"
.
Now, open your eyes and think about the moral of this story:
"Do not be mean to my Sweetie."
Reparations are not always monetary, nor are they determined on the color of one's skin.
Get ready.
Washington (CNN) - President Donald Trump on Thursday granted a posthumous pardon to boxer Jack Johnson on the advice of actor Sylvester Stallone.


"Today I've issued an executive grant of clemency, a full pardon, posthumously, to John Arthur 'Jack' Johnson ... The first African-American heavyweight champion of the world, a truly great fighter. Had a tough life," Trump said.


Trump was joined in the Oval Office by Stallone, current heavyweight champion Deontay Wilder, and Johnson's great-great niece Linda Bell Haywood, among others.
"We have done something today that was very important, because we righted a wrong," Trump said. "Jack Johnson was not treated fairly, and we have corrected that, and I'm very honored to have done it."
Last month, Trump said he was considering the pardon.
"Sylvester Stallone called me with the story of heavyweight boxing champion Jack Johnson. His trials and tribulations were great, his life complex and controversial," Trump tweeted. "Others have looked at this over the years, most thought it would be done, but yes, I am considering a Full Pardon!"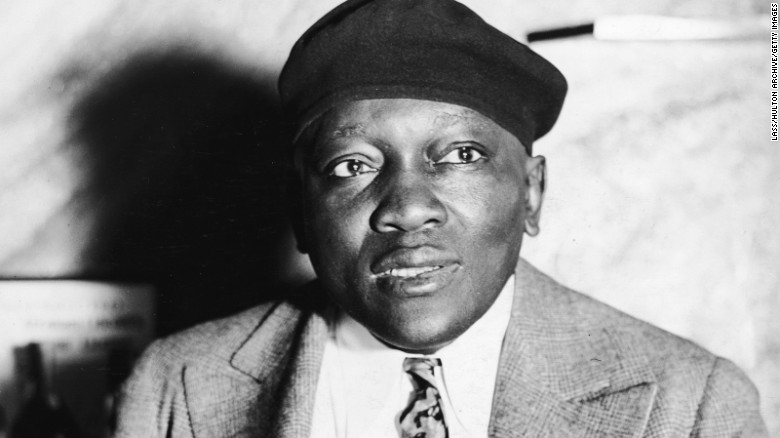 Johnson, the first African-American world heavyweight boxing champion, was convicted in 1913 under the Mann Act for taking his white girlfriend across state lines for "immoral" purposes. The Mann Act purported to prevent human trafficking for the purpose of prostitution, but critics have argued it was applied inconsistently to criminalize African Americans and those with dissenting political views.
Johnson was convicted by an all-white jury in less than two hours and was imprisoned for a year. The sentence and imprisonment destroyed the boxing career of the "Galveston Giant." He died in 1946.
Stallone called Johnson an "inspirational character."


"It's incredible that you've done this," the "Rocky" star told the President.


"It's an honor to take a fictional character like Rocky and do something in the world of reality," Stallone said, thanking Johnson's niece.


In 2016,
then-Sen. Harry Reid, D-Nevada, and Sen. John McCain, R-Arizona,
along with Reps. Peter King, R-New York, and Gregory Meeks, D-New York, petitioned the Obama administration to grant a pardon to Johnson. The bipartisan group of lawmakers sent a letter to the White House asking that the pardon be given in honor of the 70th anniversary of the boxer's death.
"While it is unfortunate that this unjust conviction was not corrected during the boxer's lifetime, a posthumous pardon today represents the opportunity to reaffirm Jack Johnson's substantial contributions to our society and right this historical wrong," the letter said.


"Despite this resolution passing both chambers of Congress several times in recent years, no pardon has been issued to date," McCain said in a statement at the time. "I hope President Trump will seize the opportunity before him to right this historical wrong and restore a great athlete's legacy."