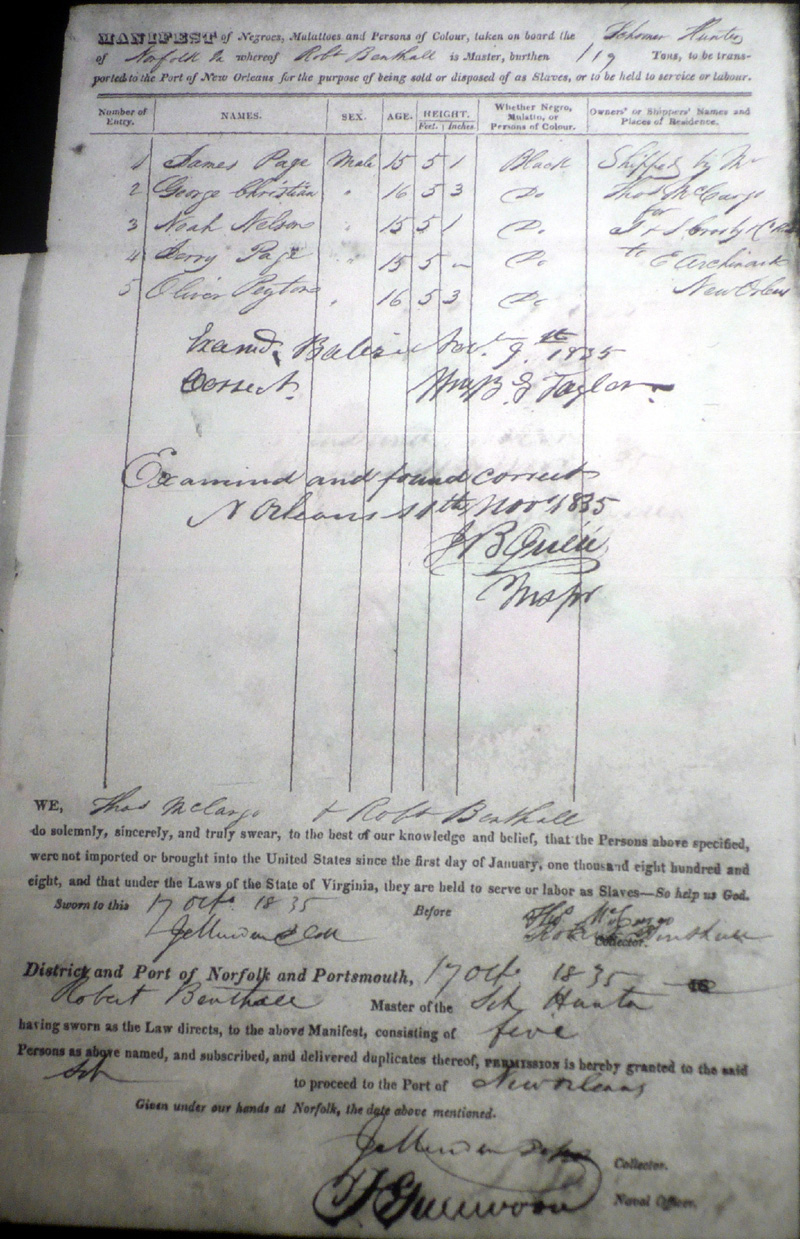 1835 Manifest, alien ages: 13-15 years
Trafficking tiny humans has always been the work of the christian god.
How do you think they got so many slaves on the Good Ship Jesus
?
They were children and it was funded by the Holy See.
Besides, good help is so hard to find these days, just ask
Michele Bachmann
.
Both thy bondmen, and thy bondmaids, which thou shalt have, shall be of the heathen that are round about you; of them shall ye buy bondmen and bondmaids. Moreover of the children of the strangers that do sojourn among you, of them shall ye buy, and of their families that are with you, which they begat in your land: and they shall be your possession. And ye shall take them as an inheritance for your children after you, to inherit them for a possession; they shall be your bondmen for ever.
Leviticus 25:44-46.
"[W]e grant to you full and free power, through the Apostolic authority by this edict, to invade, conquer, fight, subjugate the Saracens and pagans, and other infidels and other enemies of Christ, and wherever established their Kingdoms, Duchies, Royal Palaces, Principalities and other dominions, lands, places, estates, camps and any other possessions, mobile and immobile goods found in all these places and held in whatever name, and held and possessed by the same Saracens, Pagans, infidels, and the enemies of Christ, also realms, duchies, royal palaces, principalities and other dominions, lands, places, estates, camps, possessions of the king or prince or of the kings or princes, and to lead their persons in perpetual servitude..."
Besides, if you sell a few kids, you can take care of even more.
Just never ask about the godly things they do with the children after procurement.
Nun charged with baby trafficking at Mother Teresa home for pregnant women in India

Indian authorities say they have sealed a home run by Mother Teresa's religious order and charged a nun and one other person with baby trafficking.
Key points:
Child protection body says home was charging between $785 and $1,964 per baby
The home was required to inform authorities of all babies born there
Activists claim they were selling more than they were handing over to authorities
The home in eastern India's Jharkhand state is run by Missionaries of Charity, the order set up by Mother Teresa in India, and provides shelter for pregnant unmarried women.
"They have said that at least five to six babies have been sold to childless couples," police officer Aman Kumar told Reuters in a phone interview.
"We are investigating to see how the operation was run and how many more children have been given away in the last few years."
An Indian couple claimed they paid 120,000 rupees ($2,354) to Anima Indwar, who worked at the shelter run by the Missionaries of Charity, said Mr Kumar.
The arrests of the nun and another worker on Tuesday and Wednesday followed the couple's complaint the charity worker had taken back the baby boy and kept their money.
Mr Kumar said the police were investigating three other complaints against Ms Indwar for allegedly selling children from the shelter.


Spokeswoman Sunita Kumar said the Missionaries of Charity was investigating.
"There was no question of selling any child as the Missionaries of Charity had stopped giving children for adoption three years ago," she said.
She said the charity had never taken money from parents while arranging adoptions in the past.
Mr Kumar said 100,000 rupees ($1,964) was recovered from the two who were arrested.
More on Mother Teresa
The Missionaries of Charity stopped organising adoptions in India in 2015, saying they disagreed with government rules that made it easier for single, divorced, and separated people to adopt children.
There have been a number of reports of babies and children being trafficked through charity-run homes and hospitals, which campaigners say is driven by a long waiting list for adoption.
The Nirmala Shishu Bhavan home, run by the Missionaries of Charity in Jharkhand state capital Ranchi, was required to inform authorities about all babies born there.
"They were selling more babies than what they were handing over to authorities," said Baidnath Kumar, a Ranchi-based child rights activist who had filed complaints against the home.
Mr Kujur said his organisation had directed that the credentials of every home run in the state should be checked.
Voting is beautiful, be beautiful ~ vote.©