Gather round, my dearies, for the Celestial Goddess of the Woodshed shall tell the tale of Debra Messing and the Impeachment Task Force.
Act Blue has launched the fundraising campaign called the Impeachment Task Force.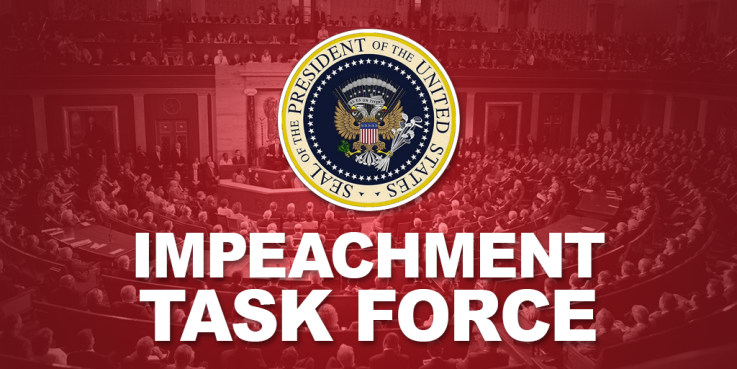 Since I could not find anything on its creation, structure, or how they can even open up a bank account, I thought it best to look at the Spokestokens:
Now, why would a group of Hollywood stars put their life and liberty on the line in a call to impeach Trump?
Well, let us just go diving for those pearls of wisdom and let Debra Messing answer this question in her own words and works:
Debra Messing, Global Ambassador
for Trafficking Tiny Humans Networks
Though Debra Messing has been a working actor for 25 years, the work she is most proud of started about 10 years ago when she began working with Population Services Intl., a charity whose mission statement is to help people in the developing world lead healthier lives and plan for their families. "I feel like this is why I'm here. I call this my 'soul work,'" Messing says.
Messing, a PSI global ambassador with a focus on HIV and AIDS, was inspired to get involved after seeing the 2005 Aldo Shoes "Hear no evil, see no evil, speak no evil" campaign designed to end HIV stigma.
"I remember thinking, 'That's brilliant!'" Messing says of the campaign.
Already supporting worthy causes by donating money, Messing was looking to do more, remembering how important NYU professor Paul Walker, who died of AIDS soon after she graduated, was to her. "It was a very profound loss," she says. "And as I started to have a platform for the first time because I was recognizable, I reached out to PSI to get more involved."
Messing's partnership with PSI has often taken her to Africa. Zimbabwe was her first trip in 2009 when she traveled as PSI's YouthAIDS ambassador to highlight the country as one of the few success stories in HIV and AIDS prevention practices. She has since visited Zambia with the same mission in 2012 and Malawi in 2016.
RELATED
Debra Messing Reflects on Roles From 'Angels in America' to 'Will & Grace'
Remote Controlled: 'Will & Grace' Cast Tackles Politics, LGBT Issues
Messing goes with pilot projects designed to spread awareness about preventing HIV and AIDS. "The first one was voluntary male circumcision, which has been extraordinarily amazing as an innovation to decrease HIV transference by heterosexual males by 60%," Messing says. "And then this most recent one was the very first at-home HIV test that's just a mouth swab."
While in Africa, Messing visits PSI testing and counseling centers, clinics, warehouse facilities and support groups for HIV positive people. She meets with PSI's senior staff to learn about new developments in ongoing projects, such as oral contraceptives, and new projects about to launch, as well. "We just keep making these huge strides, and an AIDS-free generation is absolutely within reach," Messing says.
Messing also uses her platform back in the States to document the hard work PSI is doing for the public and to testify on Capitol Hill in order to get further funding. When she first returned from Zimbabwe, she was proud to announce that the government provided $100 million toward HIV and AIDS treatment in Africa.
"Everything has built to this, starting with Paul and then getting 'Will & Grace,' which obviously opened up a lot of awareness," Messing says. "I'm a storyteller, so being able to tell the stories of those I meet on these trips to get more funding or inspire others to get involved, it's the most important storytelling that I do."
Population Services International
according to wisdom of Wikipedia:
Its world headquarters are in Washington, D.C. and its European offices are in Amsterdam. The organization employs more than 250 U.S. staff, more than 150 overseas expatriate staff and 8,000 local PSI affiliate staff. Major donors include the governments of the United States, United Kingdom, Germany and the Netherlands; the Global Fund, United Nations agencies, private foundations, U.S. Global Leadership Coalition, a Washington D.C.-based coalition of over 400 major companies and NGOs that advocates for a larger International Affairs Budget, which funds American diplomatic and development efforts abroad.
PSI works with celebrity ambassadors to raise awareness about the organizations work. Ambassadors have joined PSI staff on international trips to gain a better understanding of PSI's work, testified before Congress to promote increased funding of global health programs, and taken part in many conferences and forums to enhance PSI's visibility. As of 2017, PSI has three celebrity ambassadors including; Ashley Judd, Mandy Moore, and Debra Messing.
I found the
Center for U.S. Global Leadership
.
The Center works to educate and inspire support among the American public, opinion leaders and policymakers about the importance of development and diplomacy as key to U.S. foreign policy and national security strategy.
I found the
U.S. Global Leadership Campaign
The Campaign brings together broad based influential network of over 500 businesses and non-governmental organizations who share a commitment to advocating for a strong and effective U.S. International Affairs Budget. The Campaign achieves these objectives through education, advocacy, and related program activities.
But, I did not find any financial instruments for the U.S. Global Leadership Coalition, which automatically led me to believe, where I must be proven wrong, that this is the work of "Legal Geniuses" (trademark pending), where I found
Robert Lighthizer
, of
Skadden, the same Skadden who were stealin' the children, land and votes via that nullified creature of the Detroit Land Bank Authority.
In honor of the U.S. Global Leadership Coalition, without failing to include Robert Lighthizer & the Detroit Land Bank Authority, I would like to share a bit of wisdom for those who must continuously be mean to my Sweetie...
I believe I have reached the bottom in my search for those deeply buried pearls of wisdom, because I found this cheery brute who goes by the name of
Frank Loy, Chairman Emeritus of PSI
.
According to the wisdom of Wikipedia:
From 1981-95, Loy was president of the German Marshall Fund of the United States, an American institution whose original capital was a gift from the German government as memorial to the Marshall Plan. Where individuals such as Sheila Jackson Lee is attempting to promulgate reparations as economic development in the form of reparations to bleachbit my Sweetie's legacy, because they stole all the TARP money and want to call it the U.S. Reparations Fund.

Following the fall of the Berlin Wall, GMF concentrated the bulk of its resources on promoting democratic institutions (such as an independent press, a functioning legislature, effective political parties, an independent judiciary, a civil society of non-governmental institutions, etc.) in former Soviet-bloc Eastern European countries.

This is a very flowery way of saying he participated in the stealin' of the children, land and votes of Russia.


He served in 1994 as Chair of the Conference of Parties of the Convention on International Trade in Endangered Species (CITIES),

that is fancy speak for modern day human trafficking because they believe they are the Chosen Ones who are endangered of losing control over society

in which over 1,000 delegates from more than 120 countries and over 500 observers participated.

More fancy speak for foreign invasion called privatization

In 1996, Loy was a Visiting Lecturer at the Yale Law School, teaching a course in international environmental law and policy.
Loy chairs numerous boards of directors of non-profit organizations, particularly in the field of environment, climate change and family planning, including Population Services International (PSI), ecoAmerica, and the Round Table on Environmental Medicine and Health of the National Academy of Medicine. He serves on numerous boards he has chaired in the past, including the Environmental Defense Fund (on whose board he has served since 1981), Resources For The Future, and The Washington Ballet.
His prior boards include The Foundation for A Civil Society (chair), which promoted democratic development in Central and Eastern Europe; the Budapest-based Regional Environmental Center for Central and Eastern Europe, to which he was appointed in 1990 by President George H. W. Bush, the League of Conservation Voters, and the Foundation for a Civil Society, which has conducted programs promoting democratic institutions in Central and Eastern Europe, particularly the Czech and Slovak republics.Loy was a founding board member of the Climate Speakers Network, which was subsequently absorbed into the Climate Reality Project.
August 29, 2013
Public Services International supports our AFSCME sisters and brothers in Detroit and calls upon all PSI affiliates to "Stand with Detroit!" by signing the petition of support at: www.StandwithDetroit.org
There is no argument that Detroit is in fiscal distress. The question on the table is who pays? Will it be the city workers who labor each day to keep the city running and who already took huge reductions in pay and benefits? Will city worker and retiree pension benefits—benefits that were already earned—be slashed? Or will the bond insurers and Wall Street types who treated the city like an automated bank machine for years be required to face the consequences of their actions?
The collapse of the city's industry during the past 40 years is not the fault of the modestly-paid public service workers. Detroit's workers and retirees worked in good faith to reach an equitable solution and avoid bankruptcy in the first place. The non-uniformed workers had their future pension benefits reduced by approximately 40 percent last year and accepted a 10 percent pay cut. Now, the state government seeks to impose further cuts to workers' wages and pensions in order for Wall Street to come out ahead, again!
It is not only immoral to cut wages and pensions to compensate for the damage done by Wall Street, such measures are severe violations of the agreed labour conditions of public service workers. A government that cannot uphold the rule of law and that caters only to the interests of the elite few –instead of those workers who serve their communities, is not only in economic and financial default, but endangers its own existence.
A democratic society is built on quality public services. The policy choices that are being made in Detroit are unworthy of one of the oldest Western democracies and bring shame to the United States. We need policies that support workers and future social and economic development, not destructive measures that will have a long-lasting impact both on public sector workers and the community at large.
Now, that we have a deeper understanding in purpose of the Impeachment Task Force being another psyoptic to distract from the concept that, once again, they were mean to my Sweetie, in their fetal attempt to bleachbit his legacy of the impeachment, by covering up the fact that they were just Meanies, and really, really dumb.

They all have foreign trafficking tiny humans child welfare trust funds.

All of them.

And it all started in Detroit.


This #coloredrevolution psyoptic has been brought to you by the "Legal Geniuses"
(trademark pending)
who really do not want Trump to stop obstructing justice
by pulling that IG Report from his backpocket and #sayhisname.
And that is why everyone should rally for the impeachment because we are in Detroit.
#KAG2020
#FreeKwameKilpatrick
#FreeMariaButina
#sayhisname
#perkinscoiesucks
With the obvious abuse of power by Trump in the
#Ukrainegate
scandal,
The Democratic Coalition
is launching our Impeachment Task Force in order to remove Trump from the White House. This is a direct response to Trump's Impeachment Defense Task Force.
Please donate to our efforts today! We need $20,000 in the next week to get things off to a great start.
Here is the plan:
1) Drive contacts to Congress
We currently have 228 House members (
see the list here
) who have said they support an impeachment inquiry/investigation or outright impeachment — and now Speaker Pelosi is moving forward with impeachment hearings.
And we have also started an up-to-the-minute whip count of who in the Senate has said they support impeaching Trump, which will become the official whip count of Senators in favor of removal when there is a trial.
See the list here
.
If your members of Congress are not listed on either list, write them
here
and then call them at (202) 224-3121.
The Democratic Coalition
is one of the largest online organizing groups in the Democratic Party. While impeachment is a grave process for Congress to undertake, we need to be able to amplify breaking news and accounts related to impeachment and counter disinformation using paid advertising.
Your donations will go towards digital ads as well as the development and coordination of messaging on a daily basis.
Your donations will go towards promoting tweets and Facebook posts related to impeachment from members of the Impeachment Task Force.
Your donations will go directly towards getting hashtags, like
#ImpeachTrump
and
#Ukrainegate
, to trend in order to promote our messaging and also counter messaging from Trump and his allies.
Contribution rules
I am a U.S. citizen or lawfully admitted permanent resident (i.e., green card holder).
This contribution is made from my own funds, and funds are not being provided to me by another person or entity for the purpose of making this contribution.
I am making this contribution with my own personal credit card and not with a corporate or business credit card or a card issued to another person.
I am at least eighteen years old.
I am not a federal contractor.
Voting is beautiful, be beautiful ~ vote.©